Tuesday, April 20, 2021
We use KVM technology for virtualization on our VPS severs. KVM delivers 133% increase in disk speed performance comparing to XEN technology.
This article describes main features of Solus VM with KVM Virtualization Type. For XEN Virtualization Type use this guide.
Solus Virtual Manager (SolusVM) is a powerful GUI-based VPS management system which allows you to monitor your VPS status and change basic settings.
You can access SolusVM at https://admin.vmshell.com . Login details are provided in the welcome email along with server access details. If you haven't received it, please contact our HelpDesk.
Inside SolusVM you will see all your VPS with us. Click on Manage next to the VPS in question in order to access its management panel.
1. How to change the server status: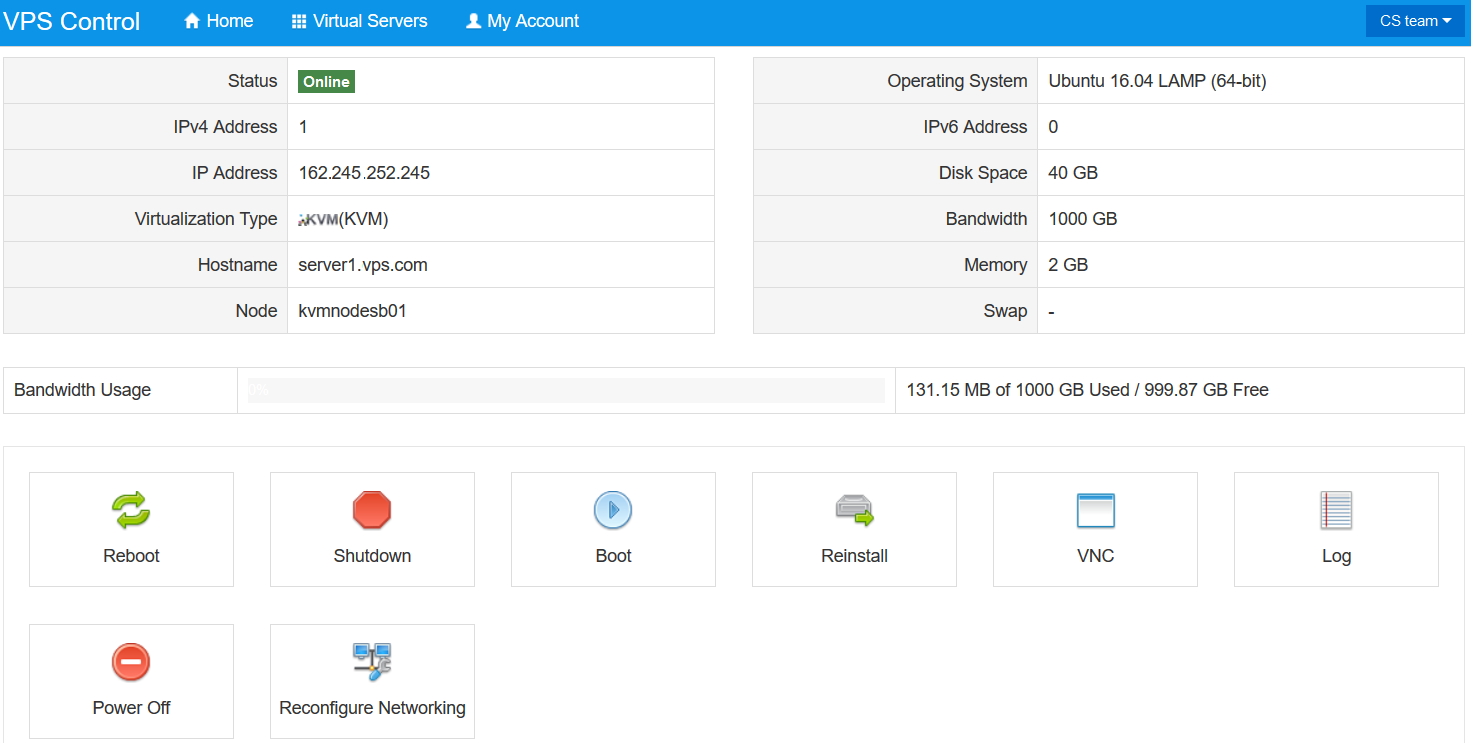 You can change server status from the main page:
Reboot - reboots your VPS; may be needed if VPS has stopped responding
Shutdown - turns off your VPS server
Boot - turns on your VPS server
Reinstall - reinstalls OS on your VPS

NOTE: The reinstall option will erase all existing data on your VPS


  2. How to change VPS hostname: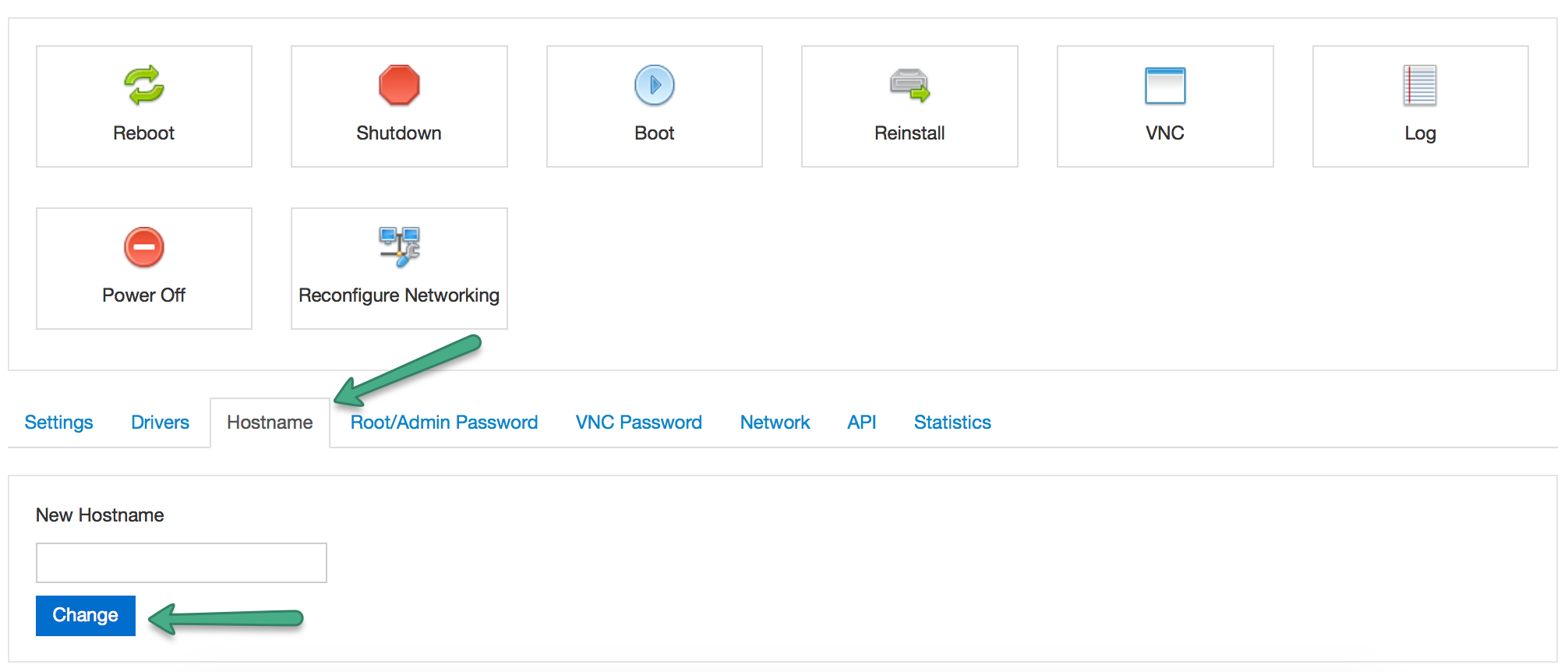 Select the 

Hostname

 tab
In the 

New Hostname

 field input the new server hostname of your choosing and click 

Change

.

NOTE: The new hostname must be set in the following format - newname.yourdomain.tld


 
  3. How to enable API access to the server:



Select the 

API

 tab
Click on 

Generate

 in order to generate a new pair of API user/password.
You can check more information about SolusVM API usage here.

 
  4. How to check VPS usage statistics

Go to the Statistics tab and select a time period from the drop-down list to see Traffic and Disk Space usage log: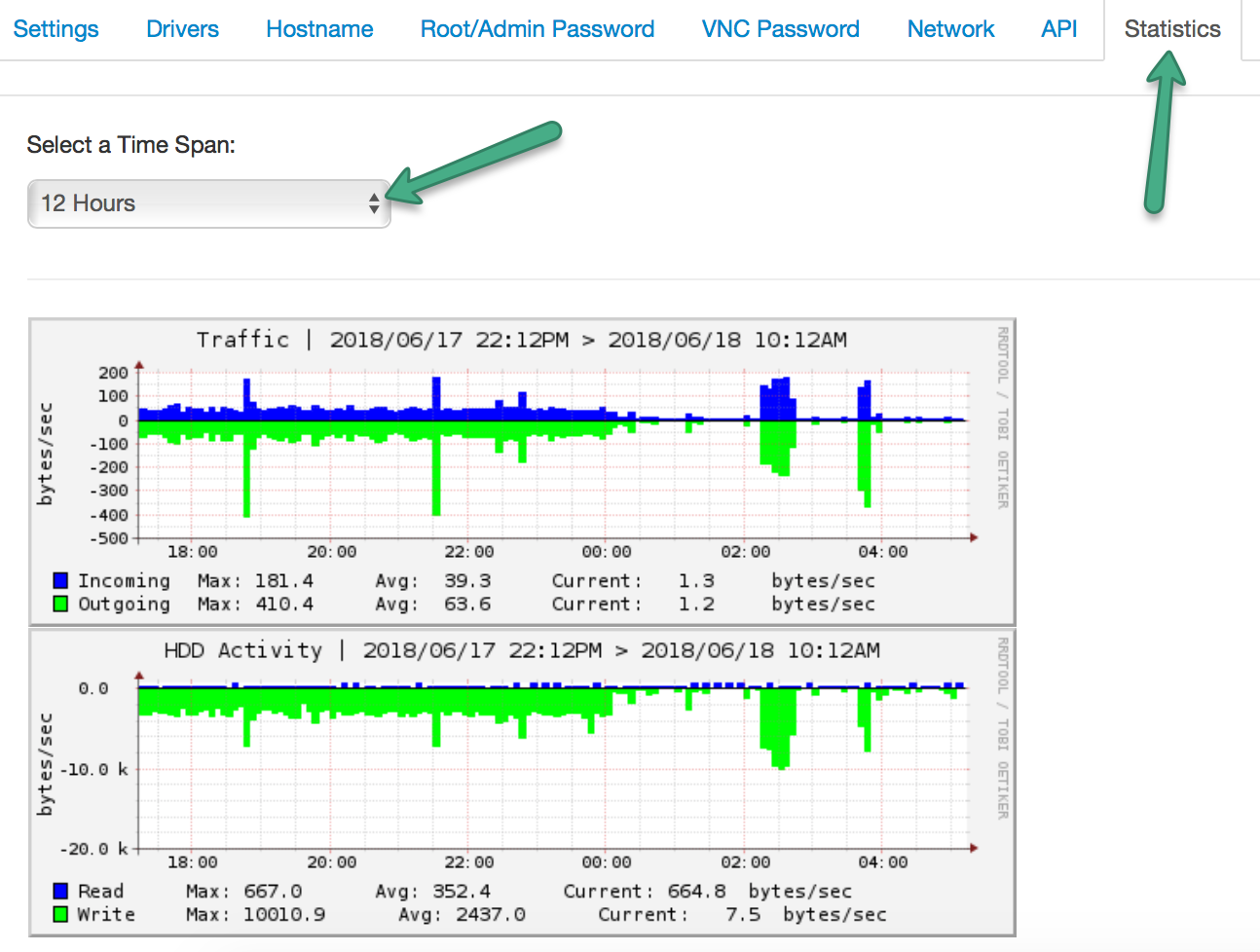 5.  How to get VNC access details

You can use any VNC client to access the server. To get the connection details click the VNC button: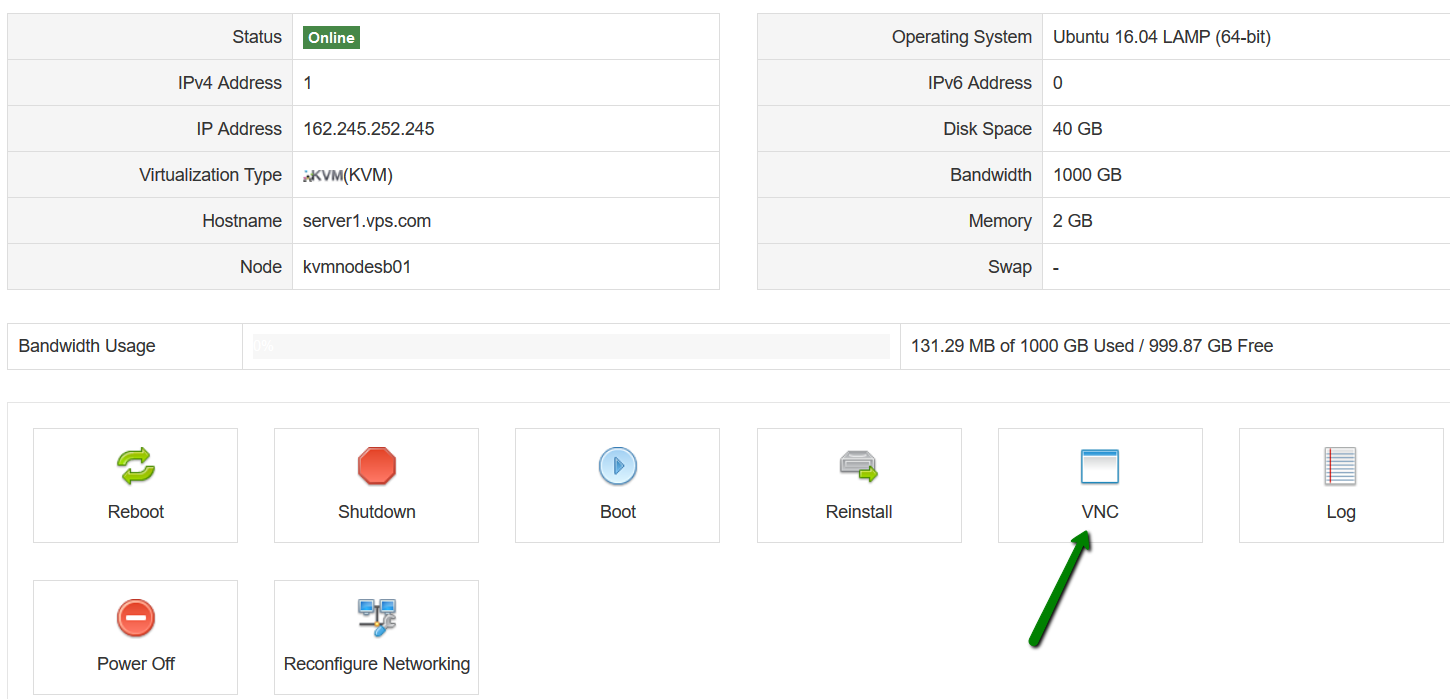 On the next page, you will be able to see VNC address, port and the password:







6. How to change VNC password

Go to VNC password tab:





Enter the new password and click Change.


7. How to change root password for VPS

Go to the Root/Admin Password tab and click the Change button:






In the pop-up window click Yes: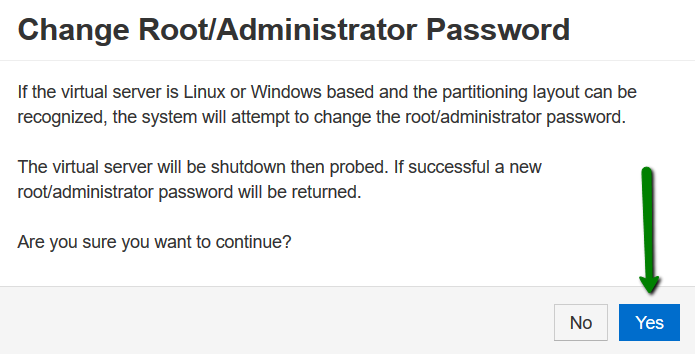 Wait for a few minutes for the password to be reset. Once, it is done you will receive a "Success" message with the new password:






8. How to manage PTR records on a VPS


Navigate to the 

Network

 tab.  Here you can see the list of the IPs assigned to your VPS and the 

Reverse DNS

 column.
Click on 

[Edit]

:




A pop-up window will show up. Input the hostname of your VPS and click on 

Update

:

 
Allow up to 24 hours to pass (in some cases up to 72) for the record to propagate. NOTE: No additional update of the PTR record in WHM is required.


  9. How to check SolusVM log


Click on the 

Log

 button on the main page:

Here you can check certain actions like VPS reboot or root password change which were made from the SolusVM panel.
You can also look up your VPS current disk space usage and remaining bandwidth:

 




Select the Reinstall menu:



On the next page, you will see the list of available OSes. You can install the next OSes on VPS:
CentOS 7 Blank/LAMP/cPanel 64 Bit
CentOS 8 Blank/LAMP 64 Bit (cPanel is not supported with CentOS 8)
Ubuntu 16.04 Blank/LAMP 64 Bit
Ubuntu 18.04 Blank/LAMP 64 Bit
Ubuntu 20.04 Blank/LAMP 64 Bit
Debian 9 Blank/LAMP 64 Bit
Debian 10 Blank/LAMP 64 Bit
More detailed information about each version can be checked in this article.
Choose the OS and the version you want to install and click 
Reinstall
:

Confirm your actions in the appeared window:

After confirming, allow the installation up to 10 minutes to be completed.
That's it!